Tire shredding machine is the main machine in the process of waste tyre recycling or rubber powder production. It is also called as tyre shredder. At normal temperature, tyre shredding machine can shred radial tire and diagonal tire without steel into 50x50mm rubber blocks. It mainly includes tire hoist, power system, shredding steels, as well as screening unit.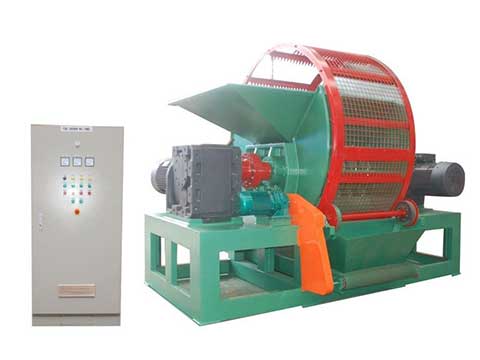 Based on the world advanced technology, we can supply the most advanced rubber powder production line. tire shredding machine is mainly used for cutting the tire without steel wire into 50*50mm rubber blocks, which is conductive to further crushing of rubber block and separating of fine steel and fiber.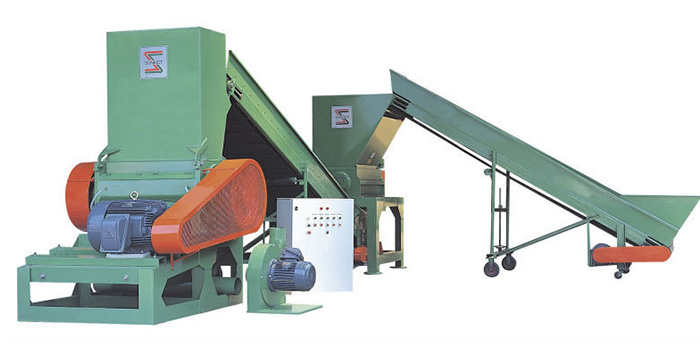 Technical Parameters of Tyre Shredding
| | | |
| --- | --- | --- |
| Model | 900 | 1200 |
| Capacity(t/h) |  1-3 | 2.5-5 |
| Feed size(mm) | ≤Φ900 | ≤Φ1200 |
| Specification of the Material(mm) | 50*50 | 50*50 |
| Motor power(kw) | 20*2+1.5+0.5 | 45*2+3 |
| Spindle speed(rev/min) | 16 | 12 |
| Overall dirmensions(mm) |  2000*2500*2800 | 4000*3400*3700 |
| Weight(t) | 6.8 | 18 |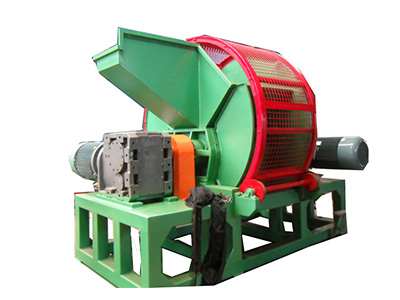 Operating Principle of Tire Shredding Machine:
The motor drives the blade in the crushing chamber to rotate through transmission system. Then put the tire without bead wire into the feeding hopper through conveyor. As soon as the tire enters into the crushing chamber, it will be crushed through cutting and shredding. The qualified rubber is discharged from the circle mesh screen for further processing. And the rubber with larger diameter return to the crushing chamber for shredding again until small enough to be discharged outside.
Tire Shredding Machine Features:
* Compact structure, advanced technology.
* Low power consumption, high efficiency.
* Folio structure of crushing chamber, easy maintenance.
* Hard alloy-steel blade, high rigidity and wear resistance.
* Blade can be used repeatedly after repairing, prolong the service life.
* The oversize tyre should be cut before crushing.
* Steel wire grid structure of circle mesh screen makes the qualified rubber discharge evenly.