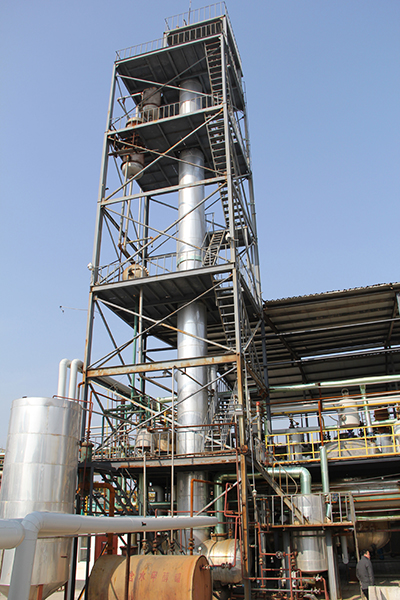 Stable, energy-saving, convenient and low cost
The methanol recovery column, also called methanol distillation column, is mainly used for separating waste water and methanol during biodiesel production in order to recycle and obtain high purified methanol.
This device is based on the needs of biodiesel production technology, combined the efficient structured stainless steel filler and stacked filler regarding the style of design.
The distillation column, is made by the stainless steel material which prevents the blocking iron filler and also extends the life of the device.
This device, the methanol contacted parts such as condenser and distributor etc are made  stainless steel in order to ensure the final product will not be contaminated by methanol.Re-boiler with removable U-shaped heat pipe, the U-shaped heat pipe can be withdrawn kettle during the maintenance, the ease of healing pipe wall and re-boiler wail for cleaning.
This device can be intermittent production, but also continuous production.
The advantages:
1, A stable operation, greater elasticity (Although the tower has stored gas and liquid which has a wider range of loading, process can still be operated at higher transfer efficiency)
2, Resistance to fluid flow is small (ie, the pressure of tower drops when the fluid pass through, which will greatly reduce power consumption, thereby reducing operating costs)
3, Simple structure, low material utilized, fairly easy to manufacture and install and low capital cost.
4, Anti-corrosion and less clogging, easy to operate, adjust and repair.
5, A tiny of amount of retention within tower.
If you would like to know more about our methanol recovery equipment, please let us know. We will answer your questions as soon as we receive your email and are always at your service!