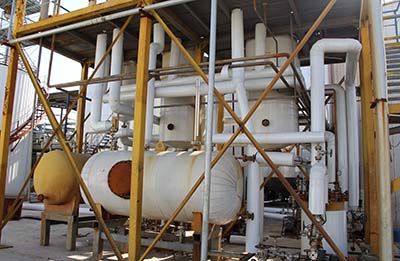 This set of treatment glycerol esterification process is the latest development of new technology. This process is can meet the high quality standards for biodiesel, quick reaction, high conversion rate, get rid of the sulfuric acid as catalyst, the sulfur content can reach less than 10ppm, small equipment corrosion and no waste water discharge, etc., The research of this process breaking biodiesel is no European standard only GB history.
The advantages:
The process is the latest development of new technology in our company, which is based on our country may implement the new national biodiesel standard and some products meet standards established by the EU biodiesel scheme.The advantage of the process:
1, Completely get rid of sulfuric acid as catalyst and the problem of sulfuric acid corrosion of equipment.
2, Due to not use the sulfuric acid as catalyst, the products meet the EU's sulfur content standards;
3, Due to not use free fatty acid reacts with the methanol, the water would not exist in methanol, thus reducing the investment in equipment .
4, Because of not use inorganic acid, acids residue and acidic water discharge will be greatly reduced, also reduced the pollution of environmental.
5, Part of glycerol can be recycled repeatedly, saving the cost of production;
6, The process of heat transfer products and materials repeatedly to achieve the recycling of heat, a significant reduction of production costs.
7, Independent research and development of composite catalysts, catalytic efficiency has been greatly improved.