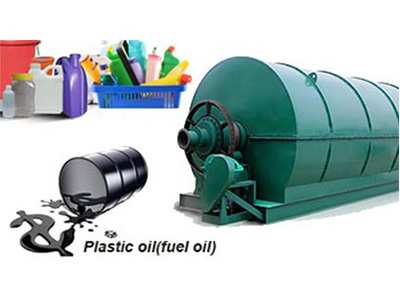 Model: BLL-30
Capacity: 30t/d
Working method: Fully continuous
Reactor size: L12.5*W2.2*H2.5m
Total power: 53.6kw/h
Floor area (L*W*H) : 20*15*10m
Are you looking for the waste plastic recycling plant at the moment? Do you have some troubles when you are purchasing the waste plastic recycling machine? If so, Beston– the most professional manufacturer in this industry in China, is the high-tech and industrial machinery for waste plastic recycling.

The process of Waste Plastic Recycling:
1.In the waste plastic continuous pyrolysis process, the waste plastic will firstly be put into the reactor.
2.Secondly, burn the fuel material (coal, wood, oil or natural gas) in the combustion system. The reactor will slowly heat, when the temperature reach around 120℃, it will produce oil gas.
3.Thirdly, oil gas will be processed and then go to cooling system to cold liquid oil. The gas which can not be liquid under normal pressure will go back to combustion system to replace the fuel material to burn the reactor.
4.Fourthly, after finished oil production, the temperature of reactor will be down and the carbon black will be discharged automatically.
Technical Data of the waste plastic recycling plant:
Data
BLJ-6
BLJ-10
BLL-16
BLL-30,BLL-40,BLL-50
Daily capacity
6 MT
10 MT
20 MT
30MT,40MT,50MT
Raw material
Waste tires,rubber,plastic,oil sludge,medical waste
Working method
Batch
Semi-Continuous
Fully continuous
Operating pressure
Constant pressure
Reactor rotate speed
0.4 turn/minute
Not rotary type
Total power
24 kw/h
30 kw/h
54 kw/h
53.6,62,84(kw/h)
Reactor size(m)
2.2*5.1
2.8*L6.2
D2.8 *L7.1
L12.5XW2.2XH2.5
Space(L*W*H)
20*10*10 m
25*15*10 m
25*15*10 m
20*15*10m,33*15*10m
Applications of Final Products:
NO.
End products
Productivity
Usage
1
Crude oil
45%
A. Sell directly.
B. Turn to diesel and gasoline by oil distillation machine.
C. Fuel materials.
2
Carbon black
30%
A. Sell directly.
B. Reprocessing to fine carbon by carbon black refining machine.
3
Steel wire(for waste tyre)
15%
A. Sell directly.
B. Deep processing to steel bloom by hydraulic press-packing.
4
Flammable oil gas
10%
A. Fuel burn by use gas burn system (pyrolysis machine included)
B. Flammable gas can be storage as fuel material for heating.

Trade & Market
So far, our products have been exported to over 20 countries and regions. Holding high quality products and honest operation as tenets is our principle in international trade, it brings us friendships with customers and build up a fine reputation in the market. At present, our products are popular at home and abroad. we have developed international market very well.
Main Markets:
3.00% Mid East
5.00% Domestic Market
6.00% Eastern Europe
8.00% Africa
10.00% South Asia
50.00% Southeast Asia
Total Annual Sales Volume:
US$2.5 Million – US$5 Million
Export Percentage:
81% – 90%
Features:
♦ Basic configuration with mature manufacturing, installation and operatinf technology.
♦ Auto tire shredding system, auto feeding and carbon/stell discharging system.
♦ Totally sealed to forbid gas/odor leaking out
♦ Rotary running that ensure the heating is efficient and energy saving.
♦ Convenient to feed material.
♦ High efficient tubular condensing system.
♦ Last heat insulating layer with longer service time