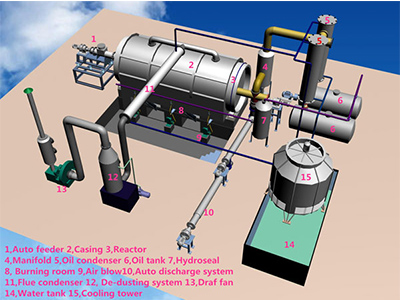 24-capacity: 10MT
Input-Raw materials: Waste Sludge Oil /Tire/Plastic/Rubber
Operating pressure: Constant pressure
Maximum height: 9meters
Steel thickness of reactor: 16mm
Reactor rotate speed: 0.4 turn/minute
Power in total: 30kw/hour
Reactor size: Ø2200*6000*16 mm
Life time: 5-8years
Recycling Pyrolysis Plant For Sludge is a processing unit that makes use of pyrolysis of massive scrap tyre/plastic/rubber/oil sludge to get fuel oil. This process unit is made up of heating system, horizontal type rotating reactor, reduced pressure oil and gas dust removal system, cooling system, surplus gas treatment system, high temperature sealing feeding and discharging system, electric control system of intelligent digital display and so on.

We have been specializing in Sludge Oil/Plastic/Tyre/Medical Waste/Rubber pyrolysis plant since 1998. Having the support of foreign and domestic doctors and technicians, we promise you high-end products and first-class service. Besides, our plants have been exported to many countries, such as, Canada, Poland, Jordan, Turkey, Malaysia, etc.
Environmental Friendly Waste Sludge Oil Process/Pyrolysis Plant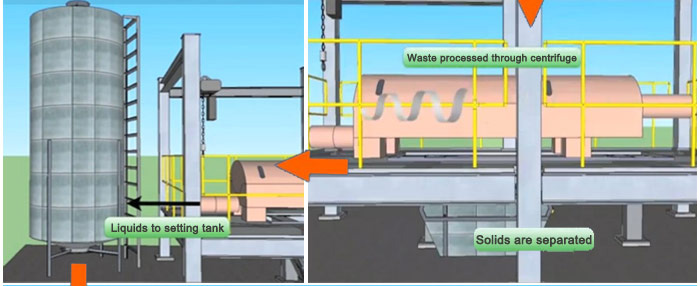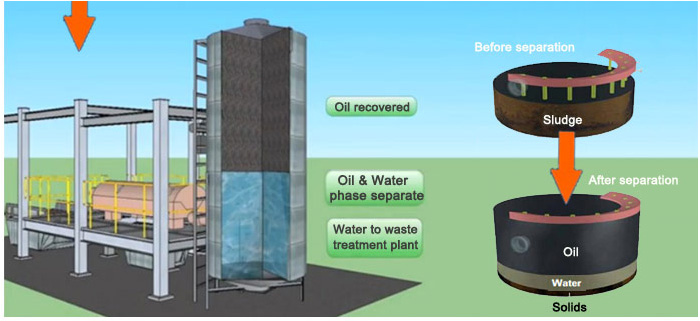 Details:
Generally waste oil treatment plant and system layouts: Waste oil systems vary depending on the unique source and make-up of the raw product and the customer's requirements regarding quality of the products after processing. However, a typical processing plant layout for most oily wastes from the petroleum industry will generally comprise the following:
Mechanical removal of solids, if required
Heating to reduce viscosity and thus enhance mobility of the phase
De-emulsifier dosing to break emulsions and make oil, water and solids bound in the emulsion accessible for centrifugal separation.
Two well-known and proven waste oils layouts are:
1.Waste oil, water, and solids separation in one high performance 3-phase decanter centrifuge. Oil quality produced in such a system is usually good enough for return to the crude oil side of the refinery.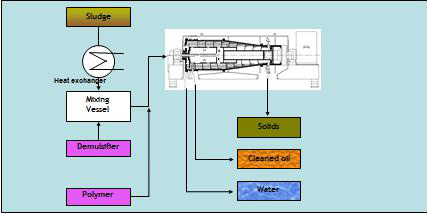 Typical 3-phase decanter performance:
Oil phase:
1-3% water
Below 1,000 ppm solids
Water phase:
1-3% oil
1,000-3,000 mg/L solids
Solids phase:
20-50% dry solids
2.Remove the bulk of the solids in a 2-phase decanter centrifuge with downstream oil-water-solids separation in a 3-phase disk stack separator type centrifuge. Naturally this plant layout is more sophisticated and requires higher capital expenditure. However, the quality of the oil and water phases is an order of magnitude better than that produced by a 3-phase decanter only.
Typical centrifuge performance for oil waste processing: For improved liquid product quality a high speed disk stack separator can be added to the respective phase(s) normally improving quality by an approximate factor of 10: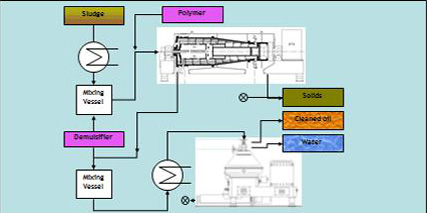 Typical 2-phase decanter performance:
Oil phase:
Approx. 0.1-0.3% water
Virtually 0 solids
Water phase:
Approx. 0.1-0.3% oil
Some 100 mg/L solids
Note:
Oil sludge treatment plant uses the most advanced sludge pyrolysis, it can turn oil sludge and oil based mud to fuel oil. One the one hand, fuel oil from oil sludge can bring economic profit; on the other hand, it has solve the oil sludge pollution.so if you are willing to learn more about the oil sludge treatment, please Leave A Message to let us give you details.