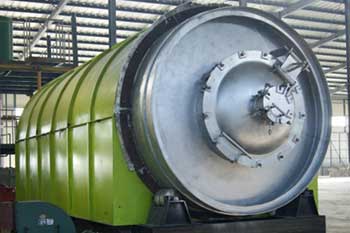 Advanced technology, little pollution, low production costs
Purposes:
Organic solid waste pyrolysis. On the design of the key device for cracking furnace, our company thoroughly overcomes the domestic current vertical partial uneven heat cracking furnace bottom, easy to fracture, low yield, short service life of unfavorable factors.
Features:
(1)Using no-stripping technique, which does not require the rubber and the wire separation before the pyrolysis, thereby reducing energy consumption significantly improve the economic efficiency;
(2) Matching up with micro negative pressure system anduses micro-vacuum technology ensures the gas does not spill in the production process and improve the efficiency of thermal cracking, eliminating hidden dangers caused by the gas leak from the fundamental;
(3) The pyrolysis furnace use feeding and discharging seal system to improve the performance sealing of the furnace, so that the waste in anaerobic (or oxygen-free) state cracking eliminate dioxin formation,therefore guarantee the pyrolysis furnace safety during production.
(4) Matching up with high efficiency flammable gas recovery system, hence it can guarantee the non-condensable gas use effectively, saving energy and reducing harmful emissions.