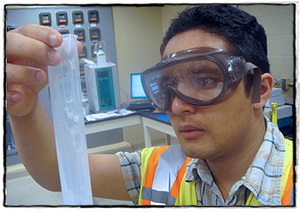 Shyam Paudel's interest in energy comes from deep in his childhood, growing up in the mountains of Western Nepal. Children commonly studied by the light of kerosene lamps.
"One summer, my father bought two solar panels for the house," Paudel said. "After that, I never had to study under the dim, irritating haze of a kerosene lamp again. Even as a middle school boy, I recognized the power of this change, and my desire to end energy poverty was born."
Paudel, a chemical engineering Ph.D. candidate at Missouri University of Science and Technology, is one of two new co-chairs selected to lead the Next Generation Scientists for Biodiesel.
The National Biodiesel Board program for college-level science students is intended to foster professional relationships between budding and established scientists, share accurate information and increase collaboration with academia and the biodiesel industry.
William Gray, a chemical engineering undergrad at Rowan University in Glassboro, New Jersey, will also provide student leadership for the organization. Gray's journey with biodiesel began in the summer of 2017, with a research project that involved developing a feasible lipid extraction process for microalgae.
"I learned about the struggles holding back algae as a biodiesel feedstock," Gray said. "We found that many issues arise due to the high cost of extracting out the lipids. Our lab's work aimed to lower this cost, and hopefully will help bring algae back to the forefront as a practical energy source."
Both men plan to attend an invitation-only Biodiesel Sustainability Workshop sponsored by the National Biodiesel Foundation in September. They have also attended the National Biodiesel Conference & Expo in previous years on scholarships set up through the NGSB program. The scholarship application process for the 2019 conference will open in October.
Paudel and Gray join one other sitting co-chair of the organization—Jennifer Greenstein, North Carolina State University, studying plant and microbial biology. A fourth co-chair, James Brizendine, recently graduated from Missouri University of Science and Technology with a degree in environmental engineering.
Made from an increasingly diverse mix of resources such as recycled cooking oil, soybean oil and animal fats, biodiesel is a renewable, clean-burning diesel replacement that can be used in existing diesel engines without modification. It is the nation's first domestically produced, commercially available advanced biofuel. NBB is the U.S. trade association representing the entire biodiesel value chain, including producers, feedstock suppliers, and fuel distributors, as well as the U.S. renewable diesel industry.
If you want to start bio diesel business, please click!http://www.biodieselproject.com/contact-us