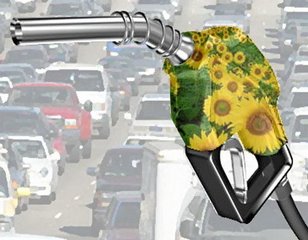 This month the European Union will introduce new labelling requirements for newly manufactured vehicles and refuelling stations. The new system will mean consumers will be able to immediately see the biofuel content of the fuel they are purchasing.
The labels will be displayed in all public refuelling stations on the fuel-dispensing unit and on the filler nozzle of the fuel dispenser, as well as in vehicle dealerships. In addition they'll be present on newly produced vehicles 'in the immediate proximity of the fuel filler flap/cap'.
As well as passenger cars, these labels will be present on light and heavy-duty commercial vehicles, buses and coaches, and motorcycles and mopeds.
For leaded and unleaded fuel, the new system will have a letter E surrounded by a circular border, with a number designating the percentage of biofuel in the blend. For example, E5 for a 5% blend, E10 for 10%.
Similarly, diesel will be identified by a letter B in a square border, with a number showing the percentage of biodiesel – B7 for a 7% blend, B10 for 10% etc.
The new labelling should be placed on fuel pumps and newly produced vehicles as of 12 October.